Top Story
Autodesk Modifies Generative Design Extension Pricing
Autodesk introduces new pricing policy to promote Generative Design adoption
Effects artists used a combination of digital modeling, animation, CAD and 3D printing to build the massive S.T.R.I.P.E. armor for the DC Universe's Stargirl.
Featured Companies
The Value of Digital Transformation Across the Asset Lifecycle
December 20, 2022
Improved productivity, is one of many significant operational benefits that digital transformation can have on an business.
Hexagon Asset Lifecycle Intelligence Division
December 16, 2022
Hexagon's Asset Lifecycle Intelligence division helps clients design, construct, and operate more profitable, safe, and sustainable industrial facilities.
Autodesk Accelerate: Lessons on Transformation from the Big Easy
May 27, 2022
At Autodesk Accelerate Conference, Autodesk executives and customers discuss digital transformation.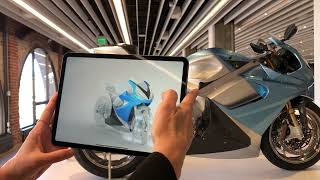 San Francisco-based Autodesk Gallery reopens
March 9, 2022
The newly reopenned San Francisco-based Autodesk Gallery exhibits highlight AR/VR apps for real-time CFD, generative design projects.
AU2021: May the Forge be with You
October 19, 2021
Autodesk brings its focus back on the Forge development platform, hints at more access to Forge via APIs, announces two new Fusion 360 Extensions
Astro Aerospace Acquires Horizon Aircraft
June 8, 2021
Astro expands its offerings in the eVTOL market expected to hit $1 trillion by 2040.
Autodesk Modifies Generative Design Extension Pricing
June 7, 2021
Autodesk introduces new pricing policy to promote Generative Design adoption
GTC 2021: NVIDIA Launches Omniverse, Develops CPU for Data Centers
April 13, 2021
NVIDIA Omniverse emerges from Beta, CPU codenamed Grace makes debut
OpenBOM Growth Continues With Annual Subscriptions, Onboarding Program
March 19, 2021
The new business model allows OpenBOM to improve the process of customer adoption.
Autodesk Manufacturing Summit: Betting on Generative Design and Additive Manufacturing
September 4, 2020
Autodesk showcases Fusion 360 during virtual event, promotes generative design and 3D printing for collaborative product development during the new normal.
Bringing a Comic Book Hero to Life
July 7, 2020
Effects artists used a combination of digital modeling, animation, CAD and 3D printing to build the massive S.T.R.I.P.E. armor for the DC Universe's Stargirl.
Epic Games to Hold Unreal Fest
June 12, 2020
Game Engine users to gather in virtual conference amid COVID 19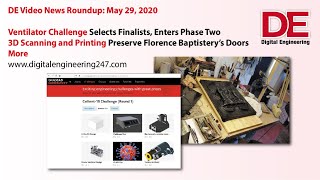 DE Video News Roundup: Update on CoVent 19 Ventilator Design Challenge, 3D Print and Scan in Medieval Church Restoration, More
May 27, 2020
In Video News Roundup for May 29, 2020, the Covent-19 ventilator design challenge enters phase II, 3D printing and scanning firm Prototek helps restore Florence Baptistery cathedral door, Autodesk Fusion 360 adds 3D printing tools, 3D Heals virtual conference set for June
CoVent-19 Calls on Engineers to Design Ventilators
April 2, 2020
GrabCAD, StrataSys, Ximedica launch design challenge to address ventilator shortage
AU 2019: Partnership with ANSYS, Free Generative Design Tools, Jumping on the Virgin HyperLoop, More
November 26, 2019
Autodesk University highlights, update on the Autodesk-ANSYS partnership, Free Generative Design tools for subscribers, more
Latest News
Almost Perfect: Lenovo ThinkStation P360 Ultra
Lenovo delivers an ultrasmall workstation that's big on performance.
Carbon Shares Platform Improvements
Company introduces new EPU 46 resin with color options.
COMSOL Announces Program for COMSOL Day: Aerospace & Defense
The event will explore multiphysics simulation applications and modeling topics supporting innovation and design in the aerospace and defense industry.
Keysight Highlights EDA 2024 Integrated Software Tools
This integrated EDA software is designed to increase productivity for engineers developing high-speed products in multiple applications, the company reports.
3D Systems Partners with Klarity
Klarity Prints, powered by 3D Systems, is a service-based line of 3D-printed radiotherapy accessories.
Altair Takes Home Awards from Fortune, Newsweek
Altair has been named to two lists that recognize companies that put employees first, Altair reports.
All posts