Top Story
FREE WEBINAR JUNE 7: Extending Reality to Tomorrow's Trucks - Volvo's Collaborative Workspaces
May 12, 2022
Join Volvo Group, ESI Group and NVIDIA to learn how extended reality can improve product development.
FREE WEBINAR JUNE 7: Extending Reality to Tomorrow's Trucks - Volvo's Collaborative Workspaces
May 12, 2022
Join Volvo Group, ESI Group and NVIDIA to learn how extended reality can improve product development.
Survey Shows How Manufacturers Plan to Leverage Metaverse
April 1, 2022
Majority of companies interested in learning how 'digital twins' can benefit their operations, survey finds.
Autodesk Buys The Wild XR Platform
March 28, 2022
The Wild enables architecture, engineering and construction (AEC) professionals to present, collaborate and review projects together in immersive and interactive experiences.
Visual Effects
November 1, 2021
Engineering software is effective as a visual tool to help drive product sales, demonstrations and content creation for marketers.
Editor's Pick: Upgrade to Mixed Reality 3D CAD Viewing Suite
May 5, 2021
Theorem Solutions Theorem-XR Suite update offers support for HoloLens 2 and the Microsoft Azure Remote Rendering (ARR) engine.
Bridge the Gap Between CAD and XR With Release of Theorem-XR
April 23, 2021
This latest release sees the Theorem-XR portfolio offering support for Microsoft HoloLens 2.
Arvizio Launches XR Connect
February 17, 2020
Multi-User XR now available for CAD, BIM and Point Cloud Visualization with Magic Leap 1, HoloLens 2 and Mobile AR.
Mixed Reality Moves Beyond the Cool Factor
February 1, 2020
As hype subsides, practical use cases emerge.
How Real is VR for Design?
February 1, 2020
Use of extended reality (XR) products has become an increasingly hot topic in the design space.
VRX Sets for December in San Francisco
November 15, 2019
The VR Conference and Expo by Reuters will feature several panels that seek to identify trends in the emerging XR commerce.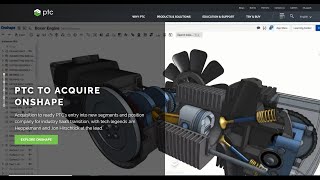 PTC Buys Onshape, xRS Brings Out Use of AR-VR in Training, More
October 31, 2019
In this episode of DE Video News Roundup, CAD and PLM vendor PTC buys cloud CAD Onshape for $470 million, xRS Conference brings out ARVR use in training, CAASE conference now open for paper proposals, DE seeks holiday-themed simulation projects to...
XR Transforming Design, Visualization
September 18, 2019
Ford, BASF discuss extended reality in VR Intelligence webinar.
Latest News
Raymond Weitekamp: In Search of Production-Grade AM Polymer
PolySpectra's founder and CEO Raymond Weitekamp develops resin-based AM material that can go head-to-head with molded engineering plastics.
Reimagining Manufacturing on a Worldwide Scale
Formlabs hosts 1-day event to explore how to accelerate manufacturing's potential in the 21st century.
Digital Metal Launches Industrial Metal Binder Jet 3D Printer
It is developed as a modular component of a complete binder jet solution.
Blackstone Resources Wins Green Product Award 2022
Blackstone's 3D printing, a high-speed multilayer technology, for production of environmentally friendly and high-performance lithium-ion batteries won out of 1,500 competitors...
All posts