Top Story
Technology Awakening
April 27, 2022
Without a doubt, technology has shaped the world we find ourselves in, made the world better, but has also left us unprepared for the world's latest series of catastrophes.
PTC Creo 9 Now Available
May 5, 2022
Core enhancements enable better designs in less time, company reports.
Technology Awakening
April 27, 2022
Without a doubt, technology has shaped the world we find ourselves in, made the world better, but has also left us unprepared for the world's latest series of catastrophes.
AI, Generative Design and the Next-Gen Engineer
April 12, 2022
Increasing adoption of AI, ML and generative design makes engineers curious what the technology means for the future of design.
Diabatix Coldstream 2 Coming Out
April 4, 2022
This software is a thermal optimization platform combined with built-in computational fluid dynamics.
New SolidWorks CEO Discusses AI, Generative Design, Virtual Twins
March 11, 2022
Long-time R&D veteran Manish Kumar steps up to become CEO, envisions natural interactions driven by AI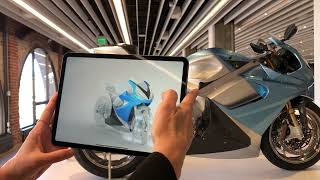 San Francisco-based Autodesk Gallery reopens
March 9, 2022
The newly reopenned San Francisco-based Autodesk Gallery exhibits highlight AR/VR apps for real-time CFD, generative design projects.
The Importance of Lattice Structure in Design Engineering
February 2, 2022
Using lattices in your design structure can expand your design freedom and help create more economical products and designs.
AI Scale-up Diabatix to Boost Growth in Generative Thermal Design
January 6, 2022
The company, which closed a funding round with Saffelberg Investments, plans to expand the growth of its ColdStream platform.
Proceed With Optimism
December 21, 2021
Our readers and the technology providers in the engineering market have continued building on the opportunities that emerged in the past year to explore new ways to collaborate.
AU2021: May the Forge be with You
October 19, 2021
Autodesk brings its focus back on the Forge development platform, hints at more access to Forge via APIs, announces two new Fusion 360 Extensions
OCT. 21 - FREE WEBINAR: How to Transition from Parametric to GD (Generative Design)
October 12, 2021
In this Hot Seat panel discussion, attendees will learn how to transition from parametric to generative design.
DE Design & Simulation Summit Arrives Online in October
September 29, 2021
Digital Engineering presents its inaugural online conference Oct. 7, featuring digital twin keynote panel.
Sponsored Content
Nature's Formulas Coded as Generative Design
July 17, 2021
Generative Design software engineers turn to Nature to program micro-topological structures.
Technology Focus: Generative Design
June 29, 2021
In this Special Focus Issue, we take a look at the expanding world of generative design.
Autodesk Modifies Generative Design Extension Pricing
June 7, 2021
Autodesk introduces new pricing policy to promote Generative Design adoption
Latest News
Raymond Weitekamp: In Search of Production-Grade AM Polymer
PolySpectra's founder and CEO Raymond Weitekamp develops resin-based AM material that can go head-to-head with molded engineering plastics.
Reimagining Manufacturing on a Worldwide Scale
Formlabs hosts 1-day event to explore how to accelerate manufacturing's potential in the 21st century.
Digital Metal Launches Industrial Metal Binder Jet 3D Printer
It is developed as a modular component of a complete binder jet solution.
Blackstone Resources Wins Green Product Award 2022
Blackstone's 3D printing, a high-speed multilayer technology, for production of environmentally friendly and high-performance lithium-ion batteries won out of 1,500 competitors...
All posts