Top Story
3DEXPERIENCE World 2022 Virtual: New CEO Signals New Era
February 8, 2022
SolidWorks picks long-time R&D veteran to lead the CAD tradition
New SolidWorks CEO Discusses AI, Generative Design, Virtual Twins
March 11, 2022
Long-time R&D veteran Manish Kumar steps up to become CEO, envisions natural interactions driven by AI
3DEXPERIENCE World 2022 Virtual: New CEO Signals New Era
February 8, 2022
SolidWorks picks long-time R&D veteran to lead the CAD tradition
Bionic Arms and Magic Castles Change Lives
January 28, 2022
Engineers transform wheelchairs and prosthetics into expressive art pieces.
How to Build a Castle-Carriage for a Princess in the Middle of a Pandemic
November 5, 2021
SolidWorks and Magic Wheelchair joined forces to create princess-themed castle and carriage wheelchair
3DEXPERIENCE Platform Supports XVL 3D File Format
October 27, 2021
Native XVL on 3DEXPERIENCE platform for Japan now available after development with Toyota.
Sponsored Content
Workstation Selection: No More Guesswork
July 17, 2021
GoEngineer and Dell have partnered to streamline workstation selection for SOLIDWORKS users.
3DEXPERIENCE World 2021: Holding on to the Old; Paving the Way to the New
February 15, 2021
Dassault Systemes promotes cloud-centric 3DEXPERIENCE Works, promises to keep desktop SOLIDWORKS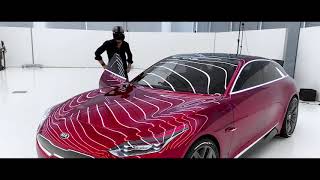 SOLIDWORKS 2021 highlights, KIA uses Varjo ARVR and Autodesk VRED, NVIDIA announces Omniverse
October 23, 2020
SOLIDWORKS 2021 highlights, KIA uses Varjo ARVR and Autodesk VRED, NVIDIA announces Omniverse
Sponsored Content
SOLIDWORKS 2021—Cloud-Centric, GPU-Friendly
October 10, 2020
New version brings the desktop software closer to parent company's 3DEXPERIENCE offerings
SOLIDWORKS 2021: GPU-Accelerated for Better Performance
October 8, 2020
SOLIDWORKS 2021 returns with more improvements in performance, modeling, and simulation.
On the Right Track
July 31, 2020
Palatov Motorsport takes CFD simulation farther and faster.
Sponsored Content
Configure the Right Workstation for SOLIDWORKS 2020
May 26, 2020
Experts weigh in on the best hardware and SOLIDWORKS settings.
Editor's Pick: Fast preparation of SolidWorks files for powder bed fusion 3D printing 
May 13, 2020
ESPRIT Additive for Powder Bed Fusion comes as an add-in to SolidWorks, and will support any file that can be opened in SolidWorks. 
At the Intersection of CAD and CAE
May 1, 2020
Mentoring is key to convergence success stories.
Dassault Debuts Integrated 3DExperience Works Platform at Conference
March 4, 2020
The re-branded 3DExperience World show emphasized web-based, platform approach to design.
Latest News
Oqton and Valk Welding Partner for Automated Robotic Welding
Oqton is part of Valk Welding's Automatic Robot Programming (ARP) solution for high-mix, low-volume production.
CADSoftTools Releases ABViewer v15.1
CADSoftTools announces ABViewer 15.1 with new features and enhancements.
C3Nano Unveils Conductive Curing Printable Ink Solution
C3Nano'sSuperGrid low-temperature process enables markets and applications for consumer electronics, flexible printed circuits, and interconnects, company says.
Siemens Advances Integrated Circuit Verification
Company debuts new, data-driven Questa Verification IQ software.
All posts